COMPANY INFORMATION
Name & Registered Office:
LUPED LTD
42 HILPERTON ROAD
TROWBRIDGE
WILTSHIRE
ENGLAND
BA14 7JQ
Company No. 06133609
VAT No. GB 921 3914 40
Company Type: Private Limited Company
Date of Incorporation: 01.03.2007
TERMS OF BUSINESS
We believe business relationships should be conducted with integrity, honour and equity for all parties involved. All the terms below reflect this belief and govern our relationship with all clients. We strive never to be party to any unfair business practices.
All references to "Luped", "Luped Media Research", "our", "us" and "we" made on this website refer to Luped Ltd. All references to "you" made in these terms refer to you the client.
1. CONFIDENTIALITY
We treat all business sensitive information passed to us as confidential and will not disclose it to third parties unless authorised by you or required by law. Where we have received media in good faith from a supplier to transfer to a client, we will confirm to the best of our knowledge whether it was used commercially if asked by that supplier.
2. FEES AND EXPENSES
Our fees are calculated by the time spent on the matter and we keep a record of this time. We will inform you of any changes to our hourly rates, they will always remain constant throughout the life of any particular project. Any supply or license fees we prepay on your behalf will be recharged to you at cost, other expenses we incur that we expect you to reimburse will be agreed with you in advance.
3. BILLING AND PAYMENT
We invoice at the end of a project or on completion of agreed stages during a project. Invoices are payable in pound sterling and must be paid within 30 days from the date of the invoice. We have the statutory right to charge compensation and interest for late payments in a number of jurisdictions. We reserve the right to charge additional amounts equal to exchange-rate losses of over 5 per cent caused by late or part payment. Please let us know if you are going to pay late so we can manage our cash-flow accordingly.
We add VAT to bills at the rate applicable to all customers based within the UK.
We accept payment via all major credit cards but charge an additional fee of 3.5% to cover the transaction fee paid to Paypal. Additional charges may apply for currency conversions, cross border payments, refunds and chargebacks.
4. THIRD PARTIES
If we engage other parties on your behalf (such as designers, photographers, illustrators, film makers, sound engineers and musicians etc.) whether in the UK or abroad, we will do so as your agent. We cannot be responsible for any act or omission of a third party.
5. LIABILITY OF LUPED LTD
The instructions you have given us create a contract for our provision of services to you and we have a duty to conduct our work with reasonable care and skill. Our services and any advice we offer are for your benefit only and may not be used or relied on by anyone else.
There is no contract between you and any director or other employee of Luped Ltd.  Any work done or advice given to you by one of our directors or employees is given or done by that person on our behalf and not in their individual capacity. Accordingly, no such person assumes any personal responsibility to you for the advice or work and you agree that any claim you wish to make can only be made against Luped Ltd.
Our total liability for losses will not exceed the total fee paid to us for any particular project unless otherwise agreed in writing. All consequential or indirect loss, whether or not foreseeable at the start of the matter, is excluded.
All these limits and exclusions on liability will not apply to liability for death or personal injury caused by our negligence or any other liabilities that cannot be excluded or limited.
6. INDEMNITIES
All indemnities are arranged on a case by case basis to ensure the territories and amount of coverage is suitable. We charge an amount equal to the insurance premium payable by us to put the required indemnity in place.
7. GOVERNING LAW
Our relationship with clients is governed by and construed in accordance with English law and all contractual and non-contractual disputes or claims will be subject to the exclusive jurisdiction of the English courts. We may bring legal proceedings against you in the jurisdiction where you are domiciled or based in order to recover fees or other sums payable to us.
PRIVACY NOTICE
Luped does not use cookie data and will never disclose any personal information provided to us to any third party without prior consent.
DOCUMENT RETENTION
Luped keeps digital records and back-ups at a secure secondary location for all work conducted for a period of 3 years. Accountancy and business related records are stored for 6 years. All records and back-ups outside this period are deleted and disposed of annually.
COPYRIGHT
All images and text on this website are the copyright of Luped apart from those otherwise credited or contained within the Shop. All rights are reserved and content may not be used elsewhere without express written consent. We are happy to help whenever we can so please ask.
TRADE MARKS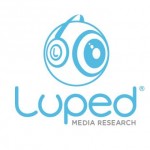 The LUPED word and logo, WE FIND MEDIA words and the EYEPHONE device are trade marks of Luped Ltd.
Save